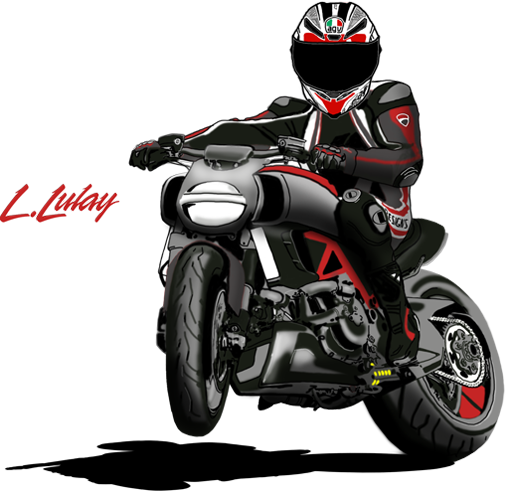 | | |
| --- | --- |
| | |
Project Diavel - Product Details and Brands
Find details and links about products and brands that were selected for Project Diavel. At the bottom right of each brand area you will find the retail price for the product(s) selected for this project (as of April 2015). If you have motorcycle related products and are interested in participating, please contact laz@lulays.com for details.


Project Diavel Product List by Category (click to jump to details)
As usual, the moment I buy a new bike I start spending countless hours looking at photos and reading what others have done. The results of my research for this project can be found in the items that follow (watch for links to my reviews and videos which provide more details of my experience with each).
Ducati 55mm/30mm Steel Wheel Nut Socket - at BellissiMoto
Wheel nut tool for the Diavel. It is two tools in one - a 55mm 12pt for the rear and a 30mm for the front. This tool is CNC machined out of high grade steel and then nickel plated so it will never rust or corrode. This is a must have tool because the local Honda/Yamaha dealers will not have a socket to change your rear tire.
Wheel Socket - $40
Cox Case Saver - at BellissiMoto
It you have a chain on your bike and that chain breaks, it is going to fly somewhere (likely forward, then out the back). If it flies into your case, you will have a cracked case - and then I hope your bike is under warranty - if not, you better know a good aluminum welder. This part is cheap insurance.
Case Saver - $30
Chain Adjuster Tool - at BellissiMoto
A Ducati chain adjuster tool for the Diavel's single sided swing arm. This tool is CNC machined out of billet aluminum.
Chain Tool - $16
Miscellaneous
This is another one of those "should have been OEM on Carbon model" items. Since it is a DP product, the carbon fiber is a perfect match. I had red racing stripes painted on it to continue the red theme.
Project Diavel Video

I am not a fan of "antenna" looking mirrors on bikes. I took my CRG bar end mirrors off of my other bike and bought adapters for the Diavel. Note: Another great option is the Driven bar end mirrors found at
Bellissimoto
.
next page - Reviews
Incoming search: LAZ Designs | Ducati Decals | Diavel Decals | Ducati stickers | Diavel sticker | Lulay Artwork