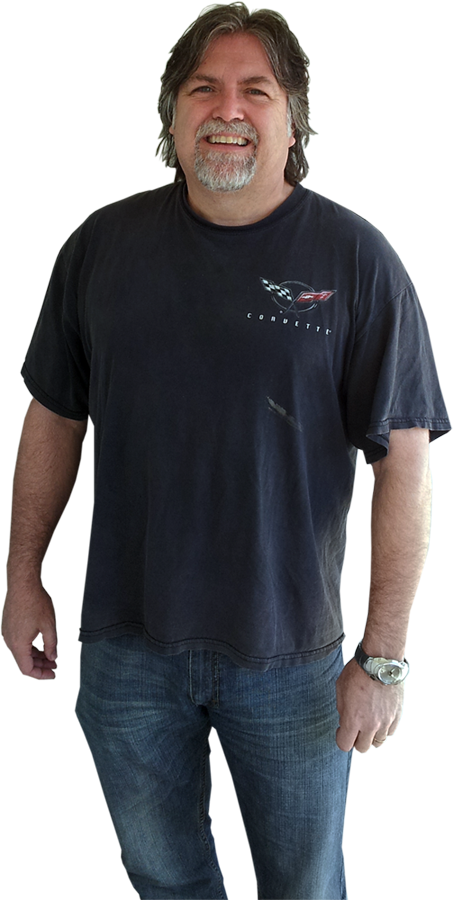 | | |
| --- | --- |
| | |
About Me with Bikes
Being born in 1962 some would say makes me an older dude; being endorsed since 1982 I say makes me a "seasoned" motorcycle enthusiast. I started out riding ATV's when I was a kid - my dad had five brand new three wheelers delivered to our house on an Easter Sunday. I played in the dirt, sand, grass, and water for years always wanting to experience what great power could be like on the street. In 1982 I bought my first motorcycle - a 1980 Yamaha 400 Special. I rode that bike as often as I could and in all types of weather. I bought those "elephant ear" handle bar slip-ons so I could ride in extreme cold and still keep my hands warm.

The first bite of motorcycle street performance was when a guy traded me a Kenny Roberts RZ350 Yamaha - a two stroke twin cylinder on a street bike frame, and that bike ran really good. You could flick your wrist to wheelie it and it rode very stable wheelies.

I took a break from street bikes for a few years when my kids were small and got back into them when they were almost nearing the end of elementary school. I got back into street bikes with a 1984 Honda 700 Magna - shaft drive water cooled. My little brother bought one too and we ran the crap out of those bikes. We used to buzz everywhere on those things and knew exactly what their very top speed was.



I wasn't looking for another bike, but found a 1984 Honda CB1000 and talked the guy into letting me take it for a test drive. When I got back, and was pulling away in my car I told my wife I had to have it - so turned back around and bought my first 1000cc bike... and set the bar where I haven't had less than a liter bike since then.

After the CB1000 I got a Triumph 955 Sprint (I'll call this a liter bike, even though it was slightly less). This was a great bike with a single sided swing arm and I did various tweaks to make it nice.

After the Triumph I bought my first Yamaha FZ1 - 2006 Raven. I had some cage Yamaha stripes custom painted on the bike by Big Daddy Newsom. I bought and sold several of these until I found one that had less than 100 miles on it and factory warranty, then I went for it on that bike and put a ton of stuff on it (including the Factory Yamaha Valencia kit - my bike with the kit installed).

Some where in the mix I bought a 2002 Honda VTX 1800 and decided to do the most extensive upgrades I've done to a motorcycle. I converted it to a fat rear tire and designed my first custom paint and had Big Daddy do his thing on it. You can see the details of that bike at http://www.lulays.com/vtx.

I put some miles on that VTX and my Corvette was just sitting in the garage - paid for and collecting dust... so I decided to sell the VTX, sell the Corvette and dump the money in my first Harley. When I saw the Harley Rocker the first time, it instantly became the one that I really thought looked good. I found a great bike and decided to go for it. If you've ever done a custom bike, you will gag when you figure out how much you will have to spend on the wheel/tire setup. I didn't hold anything back on my Harley upgrades. I also stepped up working with various brands while building the website. The result is at http://www.lulays.com/harley.



In the middle of all the Harley stuff I found a 2000 Yamaha R1 and thought I would finally go do something I've been wanting to do for a long time - track days. So I signed up for a two day event at the Ridge in WA. Before I got there I upgraded from the 2000 R1 to a 2003 GSXR. Then I found a 2007 R1, and sold the 2003 GSXR for it. Two days before leaving for my first track day experience I was out "hot lapping" on a road I thought I knew - I mistook a 120mph corner for a 45mph corner, on new tires... the perfect storm... wadded that sweet looking bike up. I didn't die and didn't lose any limbs, and didn't get to go do my track days (kind of had to spend the next few months healing).

I sold that bike, and bought a 2010 Ninja ZX10 and it never found it's way to a track day either (found someone who wanted it more than me, so I had to sell it).

Then I found a bike I had my eyes on for a long time, a 2010 Honda VFR 1200F. It was a great bike that I got to spend the summer with. I thought I was going to keep that bike for a long time, until my friend said we should stop by the Ducati dealer. This website, is the result of that stop.

To see photos and links to my other bike enthusiast sites that span my full bike history, please visit my bike history page on Rides Done Right.

I do custom artwork, so contact me if you have a project. See the link above for some examples.


Incoming search: About Larry Lulay | LAZ Designs | Ducati Decals | Diavel Decals | Ducati stickers | Diavel sticker | Lulay Artwork