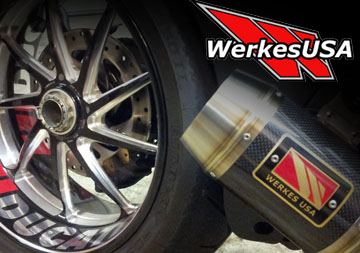 - I've never met a stock motorcycle or car that I didn't think would benefit from an exhaust modification. Normally, I've got two things in mind with an exhaust - how it looks and how it sounds. However in this case I have a third consideration - the Diavel has a single sided swing arm which exposes the beauty of the wheel... and why would anybody want to hide that beauty behind an exhaust? So began my quest for a can to meet my three considerations. I opened Google and typed "Diavel Exhaust", then clicked Images (I like to start with the visual to get ideas, then I click the "visit" links by the photo to find out things like the brand).



Everyone that has been around Ducatis is aware of the Termignoni exhaust... my opinion = I like that it is Italian and sticks to the Italian theme, I like the performance that can be gleaned from the full system, I like the way it looks, and I don't like the price. My number one consideration was to find an exhaust that would be short enough to maximize the view of that wheel = the two brands I noted were Werkes and GPR. I went on the Diavel forum and searched for comments and based on comments, the looks, the sound (from YouTube), and the price - I decided on the Competition Werkes with the Carbon Fiber option. I think it blends well with the header and lets the attention be on the rest of the bike. Watch for more on this exhaust in my other performance reviews and review/performance videos.


Exhaust Insert
Consider getting the optional insert in case your iddy biddy ears tan't hando the wowd noise... or if your police or state has a problem with sweet sounding Ducati. Also if you are doing track days it would be wise to bring it with you in case your bike blows over the noise limit.


Installation
It was two bolts and the installation takes about two minutes. It took me longer to find the tools and set up.