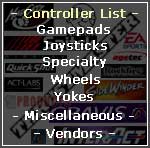 Welcome to

joystickreview.com

! Our web site enables you to view and compare as many game controllers as possible, all from one location. As you navigate the sight, use your mouse to hover the content - there are several links, so when in doubt... Click it!

We started in October of 2000 and are rollin' out controller and game reviews with a new twist; so please tell your friends, bookmark our site, and come back often. Our rating system is different than you are used to seeing, so check out our

Rating Method

page to find out how we grade on a variety of categories.

Special Note:

To prepare for this year's expansion we have moved some of our web pages to new locations, and changed file names. If you have book marked sections or pages, please locate the affected page or section and update your bookmark.
---
Ready to R-U-M-B-L-E?

Koggs recently got to mix it up with Logitech's latest rumble offering, the WingMan RumblePad.

This controller must of shook up the Kap'n, cuz he started out his review speaking some kind of garbled up french (at least I think it was french). Maybe he got crunched too many times playing Madden 2000 while testing, but his head cleared up enough to muster up another great review - check it out!
---

Game Reviews Coming Soon!
The Xbox has arrived and joystickreview.com will be breaking out our first console game reviews soon.
Infogrames
dropped off their hot Xbox titles just in time for Christmas, and we are having a blast.
The Xbox game reviews will be sporting a custom rating system (can't use PC game rating because of different platform), that will help us deliver reviews the JR way.
---

The Best of 2001 Awards!

Click Here to find out who won awards for best Joystick, Wheel, Flightstick/Throttle combo, Gamepad, Specialty, Racing Game, Sports Game, and Action Game. We had fun picking them, and can't wait to see the great products that will be coming out in 2002.
---
We have plans to support much of the XBox and add to our Playstation area. In addition to hardware, we plan to include console game reviews, so stay tuned!
---
CHECK OUT OUR COMPARISON CHARTS!
Comparison charts
for each category make it easy for you to see how controllers or games did in a category-by-category comparison with their competition. The results can be chopped and sliced with a variety of sort options, to help you find the information you desire!
---
The bottom line is that the more traffic we get on our site, the more potential we have of eventually recouping our costs - directly allowing us to put more efforts into a great site for all to enjoy! You can help our growth efforts by telling your friends to check us out, bookmark the site, and come back often. We don't offer technical support, but if you have suggestions for our web site please send us an email (see
Contact Us
).