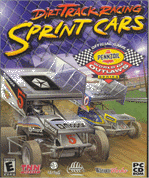 Name:

- Dirt Track Racing Sprint Cars

RATBAG Description:
The Greatest Show on Dirt! has come to your PC for the first time in Dirt Track RacingTM: Sprint Cars. Unleash the power of the meanest machines on wheels. Experience the rough and tumble action of the track on your PC like never before. Race as your favorite World of Outlaws® driver on 20 realistic tracks or work your way to the top in career mode. Strap in, tear it up, and get ready for action.
Action-packed follow-up to the Award Winning Dirt Track Racing
20 Realistic Race Tracks, Including Knoxville SpeedwayTM, Eldora SpeedwayTM, and Williams GroveTM.
Advanced vehicle physics allow for adjustable difficulty settings
Immersive 3D graphics that really put you in the Driver's Seat
Experience Full Racing Action with dust effects, skid marks, and vehicle damage
Official game of the World of Outlaws®
Exciting Multiplayer racing with up to 10 players via TCP/IP, LAN or over the Internet with GameSpy.
---
10/23/2000 - At the time of this review, I had never really spent any time driving a "sliding" game. Needless to say, I wasn't able to just jump in start running with the big boys. I was able to get it around the track while keeping it off the walls, but I wasn't very competitive. So I started out with the basic car. The basic car was easy to drive and the game is a blast. Read on and you will find out why I think this game is possibly the best game value of the year!

I reviewed the game with the Thrustmaster Force Feedback Wheel, and having a hat on the wheel was real cool - enabling me to look left and right while I was driving around the tracks.
82.3
First Impression and Game Installation
I have been waiting for someone to come out with a Sprint Car game - and this car is a great addition to the sim racing community. This game came with one of those little "CD sleeve" manuals and no CD holder. The basic install instructions were included, and the on screen instructions were easy to follow. I selected the maximum install option (237 meg). I didn't experience any issues installing the game. It automatically found my video card, and the defaults when opening the game worked fine. I am an extreme Rookie to sliding games, so the first few laps were quite an experience. I kept oversteering and working the wheel way too much, that and the standard "lead foot" problem (where you get a new game and drive full throttle until you crash a few times). Once I backed off the throttle and worked on steering smooth, I was able to get some decent laps. An advantage of this kind of game, was that I knew at the end of the straight I would be turning left... so the learning curve was drastically reduced. From the time I sat down, until five hours later... the game was fun - it was a good thing no one tried to interrupt me, because I wasn't going to get up for anything!
9.0
Configurable Options and Ease of Use
This game offers the standard configurable options. If you are looking for several options allowing you to be able to get extremely detailed with your video, sound, and controllers - you won't find it here. The options are minimal, but the effects are very adequate and they are extremely easy to use. The multi-player option was a bit tricky and it took some trial and error to figure out, but anyone with a little multi-player experience should be able to make it work. Again, the multi-player option did not have tons of features - but they worked fine. Where you do get options, is in the setup of your car, race, and event. It is kind of fun to watch for the "best" deal from a sponsor (like a game within the game). So for options it scores below average, but for ease of use it is above average.
7.0
Graphics
This is one of the first games I have ever seen that looked better than the pictures displayed on the box! The box pictures looked good... but when you are in the game, the cars, track and surround all looked very good - especially in high resolution!. If I were to compare the ground texture to another game, it really reminded me of Motocross Madness 2.
9.0
Video at Minimum and Maximum
Very good at low resolution and eye watering in high resolution. There are tons of options for video, but use caution trying to adjust your video selections. If you go into areas beyond your card's capabilities, it locks the game up (just go back in the game and change the game settings). Fortunately when you crank up the video options they don't affect the menu, so you can easily restart the game if you have troubles. I don't want to make a big deal about video adjustments messing you up, because they also included an Automatic option that tests your video card and sets the appropriate video settings. The resolution goes up to 1920 x 1440... well beyond what most of your monitors will be able to handle anyway.
9.5
Sound
The sound is very good in the car and with the surrounding cars. If you hear someone playing the demo over a phone, you will be running to the first computer store you can find to try to get the game. I didn't really notice my surround sound getting a lot of action, and there is an absence of surround sound options in the Sound section... but that does not diminish the fact that this game has good sound.
9.0
Beginner thru Advanced Use
This game has great beginner options that put you into a pretty slow entry level car. The entry level car helps you get your "sliding" wheels wet, and by the time you have earned enough money to buy the next car, you will have a fair grip on the game. Spend your time on this game, and you will find challenges all the way up through the levels. When you have computer cars figured out, you can always find the competition online, but you will likely want to hook up with some online guys right out of the box. My one caution is simple: if you generally bounce around in multiple simulations in the same night or week, you will have to do some adjusting going from your "good traction" sims to this kind of sliding sim.
9.0
Multi-player
This game has a good following with DTR, so they have an online infrastructure to allow groups of people to race each other through GameSpy. I played several times online through GameSpy and experienced a lot of lag each time I was out there. My car and scenery was fine, but those other guys were literally flying (warping) all over the place. The noticeably lacking part of Sprint Car's multi-player is no modem play or direct cable connections. When the chips are down, I always like to be able to call a buddy and connect through a modem. I am not sure where the problem is - in the game connection software, or the internet arena... but it needs improving.
6.0
Help Instructions
Where? The game is very intuitive, and is simple to use. But if you need help, you have to rely on the little "CD sleeve" help pamphlet (which isn't too bad). There is no integrated help found in the game itself (a complaint I have about most games), and there isn't an "outside the game - in Windows" help file (probably because the game gets very unstable and periodically crashes itself and other programs if you ALT-TAB to Windows). So, if you don't mind trying to figure it out on your own, or rely on some kind of Online support option - this won't really bother you.
4.5
Value (price for what you get)
This game is about as good as a value can get. I would like to have seen more options and integrated help (I would have paid an extra $5 for it), but it is very hard to say anything bad about paying their suggested retail - especially for a good game that just came out!
9.8
Recommend to Others
This came can be played and enjoyed by everyone in the house - from the littlest kid to the biggest kid. You will have a hard time finding a good reason not to go out and buy it right now (if you can find it).
9.5
RECOMMENDATIONS to the Vendor

LAZ

First of all, if any of the following options drastically increase the price of the game... find a way to get close, but don't increase the price! The cost is one of the best things this company has going for it, more people can afford a new release game if the cost is kept down.
I would like to have some type of integrated paint program that would allow me to paint the cars and driver/team suits.
Try to get the multi-player environment to work with less lag.
Better help instructions (like integrated help and a paper manual).
I would also like to be able to put my photo where the driver's photo is (JPG format would be great). I can't wait until programs evolve to allow me to have my 3D body photo included in a game, so when I am on the podium I can see myself standing there looking at my buddies in 2nd and 3rd place!