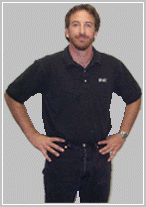 Age: Born in 1964
Family: Married to Linda since 1985. Two children, Tyson and Kia - born in 1987 and 1989.
Home: Salem, Oregon
Occupation: Manager, Wayne Parker's Auto Electric in Salem, Oregon
Racing Experience: Since 1979, the past 9 in alcohol funny cars. Russ has held a NHRA license in FM/FC since 1993 and FM/D since 1996.
---
Russ is passionate about drag racing and embraces every facet of it. Whether it is driving the car, representing sponsors, working on the car or traveling to races, it is all part of the drag racing experience that he loves so much.
His ultimate goal is to drive in one of the nitro categories, although he has enjoyed meeting people at every level of his racing career. "Friendships forged through racing are some of the most significant relationships a person can have, and I have been fortunate enough to have built many such friendships."