---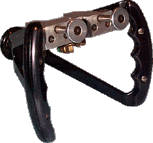 Fuel Supply Line
The fuel supply line to our alcohol-burning engine is 1 ¼ inches in diameter. Most high performance street machines are only 3/8 diameter.
Shifting Gears
The transmission is air shifted (150 lbs. pressure) by the buttons shown on the steering wheel (pictured right).
Motor Mounts
The motor has only 6, 3/8 bolts securing it to the frame rails and has no rear transmission mount at all.
Suspension?
Most funny cars have no suspension.
NHRA Licensing
To hold an NHRA license to drive a Federal Mogul funny car you must have a physical every 2 years. For Top Fuel and Nitro Funny Car it is every year.
Like Breathing?
It is mandatory for a funny car driver to have an oxygen-supply system feeding his helmet.
Ignition
Our MSD ProMag ignition system produces 44 amps. When compared to the magnetos of just a few years ago (which produced 3 to 4 amps), you could virtually weld with our mag 44!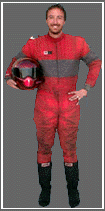 Training Wheels OR Headers?
When a funny car gets out of control and starts to roll over, the headers actually serve as "outriggers" or "training wheels" to keep it from going over. This is why you actually see more dragsters, which have shorter and therefore higher headers, roll over than funny cars.
Tire Shake
The phenomenon know as tire shake can be so severe that it results in missing or broken fasteners, cracked frame rails, broken body supports, cracked rear end gears, broken transmissions, etc. Can you imagine what the driver feels? (If you really want to know I recommend going to the local paint store, putting your head in a paint shaker and turning it on).
Race Suit
What is it that makes funny car driver's firesuits get so dirty? It is clutch dust. The bottom of the clutch bellhousing has a vent hole to let the clutch dust out. The inner tinwork has an opening that should allow clutch dust to exit the bottom of the car. It is not quite that simple, however. The side windows in a funny car have openings to allow safety crews to spay fire-extinguishing fluid inside. When the car is moving, air rushing by actually creates a vacuum which pulls air out of the driver's compartment and through the hole and in effect vacuums up the clutch dust into the driver's compartment. The same principle applies to the burnout when the inside of the car fills up with smoke, especially at the end of the burnout when there is greater vehicle speed.